In the midst of designing bunches of planner stickers for Christmas, Winter and New Year's I veered and decided to create a kit with a super cute and fun unicorn theme. The Unicorn planner stickers weekly kit is designed in sizes to fit the Erin Condren Planner – both the vertical planner and the horizontal planner. The flags and boxes can always be trimmed or added to in order to accommodate other planners such as the Happy Planner or to use with inserts.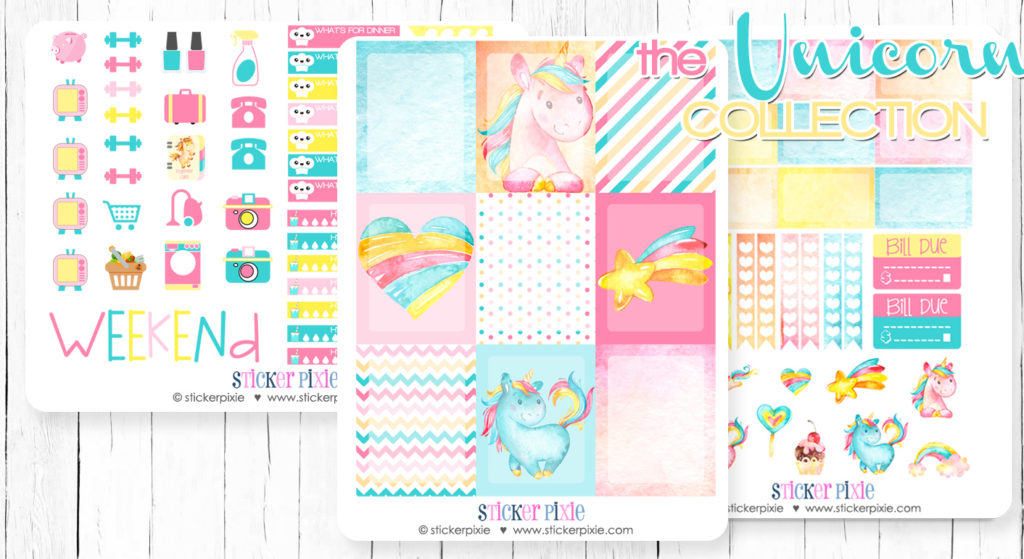 The kit has enough for at least a week of plans and there are some cute add-ons in the collection as well.  I also wanted to offer a bonus so created a FREE printable that includes some of the elements from the kit.  It's available in both .png and .psd formats.  I use a Silhouette portrait with the Designer software and prefer the .png files, but have also provided the .psd for those who prefer that file format.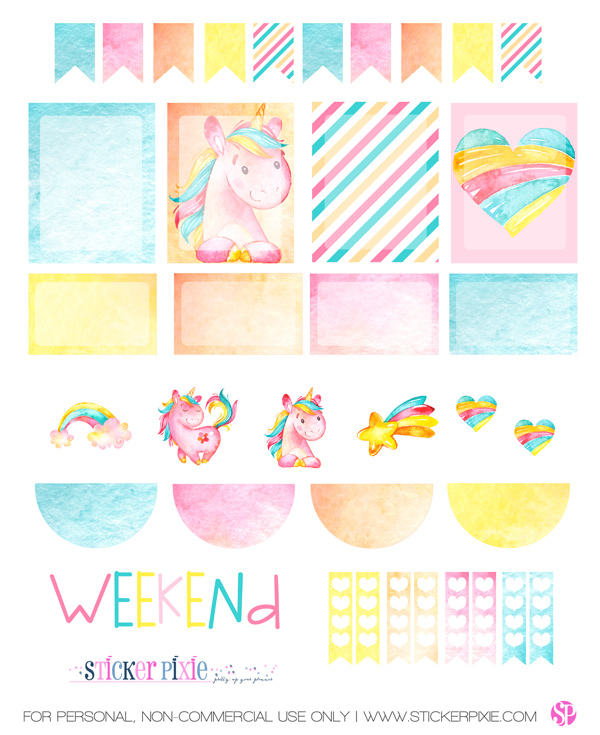 PSD Details:
37 planner stickers sized to an 8 1/2″ by 11″ pdf file
File size: Large 4.2 MB
300 dpi for crisp prints
Collection: Unicorn
PNG Details:
37 planner stickers sized to an 8 1/2″ by 11″ png file
File size: Large 3.11 MB
300 dpi for crisp prints
Collection: Unicorn
How do I use this?
Please note that the boxes are created with a bleed area.  This is ideal if using a silhouette because you can create your boxes with the box tool and insure you don't have any white around the edges.  If cutting by hand you will need to cut in slightly to fit the box correctly to a 1.5″ wide space.
If you have a silhouette or other cutter you can import the image and then create your cutlines.  I prefer just opening the .png file and creating cutlines from that, but you can also use the pdf if you have the designer edition.  The pdf file should also work for other cutting machines.
Use heavyweight printer paper or cardstock, print the images, cut and use a glue pen or roller to adhere the pieces.
Print on sticker or label paper and then carefully cut by hand.  If you have a steady hand sharp scissors work great – if not a clear ruler, x-acto knife and cutting mat are your easiest bet.  Once the pieces are cut you can either peel from the edge or slightly slice the back with an x-acto to create an easier to peel surface.
Terms:
For PERSONAL USE ONLY.
You MAY NOT RESELL, redistribute, or claim the original or derivative designs as your own (that would be stealing).
Please credit StickerPixie and link back to me (http://stickerpixie.com) if you post this page on the internet.  Would love to see your layouts if you post on instagram you can tag me at @stickerpixie or #stickerpixie.  Thank you!
Please note this blog post may contain affiliate links.
xoxo,